On this page you will find corsets I have handmade, or corsets that I have previously purchased for review and now am trying to sell to clear up space.
I DO ACCEPT NEGOTIATIONS! I also take payment plans. :) Each article has an asking price, but we can negotiate up or down from there. Please email me for any questions or purchase.
MODIFICATIONS/CUSTOMIZATION: Although I won't do alterations to make a completed corset fit your measurements, you can request to have other modifications made such as:
Exchanging flat steel boning or plastic boning with spiral steel ($20)
Adding trim or flossing (inquire for price)
Suspending/stiffening the modesty panel with bones is $20, or plastic canvas is $10.
Modifying an overbust into an underbust (inquire)

PLEASE NOTE THAT APART FROM THESE MODIFICATIONS OFFERED, ALL CORSETS ARE SOLD AS-IS AND ALL SALES ARE FINAL.
SHIPPING: This varies depending on whether you would like surface or air post, with or without tracking, and the size/weight of the corset. Underbusts will be closer to the lower end, overbusts to the higher end.
Canada: 

Expresspost (4 days max with tracking) is between $10-$18

US: 

Air shipping (no tracking) takes 1-2 weeks, $16-$23.
Express (max 3-4 days, with tracking) is on average $25.

International:

 shipping overseas is often $23 (for underbusts) and $34 (for overbusts) for surface and close to $45 for air shipping. If you'd like Express with tracking it is close to $65-75 depending on weight.
In all cases, if I get to the post office and I find that the shipping is less than what you paid by over a dollar, I will ask if you'd like a refund of the difference.
All prices are in either US or Canadian dollars – pay in whichever currency is more convenient for you.
ONCE AGAIN, ALL SALES ARE FINAL – IF YOU HAVE ANY QUESTIONS ABOUT THE CORSETS, I WILL BE HAPPY TO PROVIDE CLOSE-UP PHOTOS.
*****
Puimond white PVC plunge overbust, PY06. Waist size 20″ but it may have stretched to about 21″ now. Best suits B-C cups and average/shorter torsos.
Would best suit those with measurements up to: full bust ~32″, underbust ~27″, upper hip ~30″.

Your waist to underbust measurement should be between 3-5″ but no more than 5″.
My natural measurements here are full bust ~35″, underbust ~29″, natural waist ~27″, upper hip ~33″.
Worn by no less than 4 people – I am not sure how many people owned it before me.
Some signs of damage: small abrasion on the PVC in the back, blue ballpoint pen stains, and a bent busk loop (but still functional) – all occurred before I had purchased it. I wore it only a handful of times and kept it stored carefully in a corset bag. Retails new for $570, plus another $100 or so for the custom collar. This corset is one of a kind.
REASON FOR SELLING: This corset is standard length and my torso is too long for it – the corset does not cover my chest as much as I would prefer, and the collar isn't quite long enough for me either. Also I rarely wear PVC for any occasion.
PRICE: This corset was worth $670 new. I paid close to $400 for this as-is (with the flaws stated). I'm hoping for somewhere between $250 – $300 for this. Please make me a reasonable offer.
*****
Lucy's Homemade Corset Samples
Red smocked fabric overbust corset with gold satin boning channels and trim, made by me. Size 24″. Other measurements available upon request.
Please see my case study for more information. (Click the picture to go to the case study!)
This corset will come with a suspended modesty panel in gold satin at no extra charge! Will fit waists up to about 30″.
Wear this during the winter holidays, or wear it for Halloween as part of a superhero or Chinese Dragon costume!
REASON FOR SELLING: It was an experiment in working with smocked designs (which turned out pretty well!), but I have too many red corsets. This corset is also bordering on the large side for me.
PRICE: Asking $160 or best offer. SALE $130 OR BEST OFFER
*****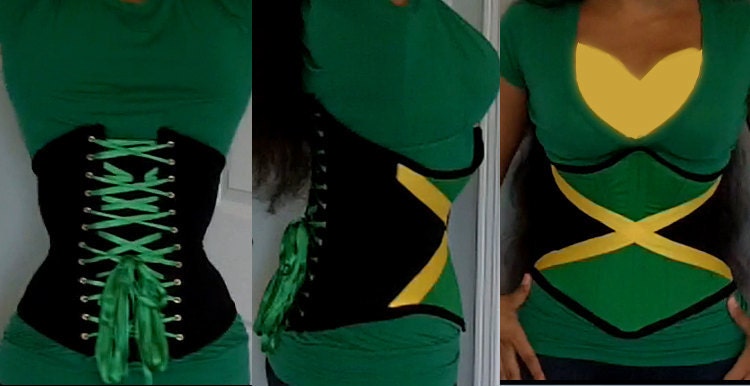 Jamaican Flag closed front underbust corset, made by me. Size about 22″. All twill inside (not coutil as I made this corset in about 1 day and was in a hurry). Inside is a bit messy (green threads visible) but still perfectly functional.
Approximate measurements:
Underbust ~ 26″, waist ~ 22″, iliac crest ~ 27-28″
Center front length 12″, center back length 13″, side length at shortest 8.5″
This comes with a suspended modesty panel made from black twill over plastic canvas. Will fit waists up to about 28″.
PRICE: Asking $140 or best offer. SALE $110 OR BEST OFFER
*****