Sample Sale & Gently Used Corsets
On this page you will find corsets I have handmade, or corsets that I have previously purchased for review and now am trying to sell to clear up space.
I DO ACCEPT NEGOTIATIONS! I also take payment plans. :) Each article has an asking price, but we can negotiate up or down from there. Please email me for any questions or purchase.
Note: change in policy for payment plans: Due to customers wasting my time, I now require a 50% non-refundable downpayment on any purchased corset. All corsets must be paid in TWO instalments (50% downpayment, 50% 2nd payment), or THREE instalments (50% downpayment, then two other payments of 25% each). If you fail to answer emails or cannot make payment, your downpayment will not be refunded.
MODIFICATIONS/CUSTOMIZATION OPTIONS
Although I won't do alterations to make a completed corset fit your measurements, you can request to have other modifications made such as:
Exchanging flat steel boning or plastic boning with spiral steel ($20)
Adding trim or flossing (inquire for price)
Suspending/stiffening the modesty panel with bones is $20, or plastic canvas is $15.
Adding adjustable hip ties to a double-boned corset ($40)
Modifying an overbust into an underbust (inquire)

PLEASE NOTE THAT APART FROM THESE MODIFICATIONS OFFERED, ALL CORSETS ARE SOLD AS-IS AND ALL SALES ARE FINAL.
*
ESTIMATED SHIPPING FEES
Disclaimer: I'm located in Canada. Shipping cost varies depending on whether you would like surface or air post, with or without tracking, and the size/weight of the corset(s). Underbusts will be closer to the lower end, overbusts to the higher end. Please email me with your country and postal/zip code if you'd like a more accurate estimate.
Canada:

Xpresspost (4 days max with tracking) is between $10-$18

US: 

Air shipping (no tracking) takes 1-2 weeks, $16-$23.
Express (max 3-4 days, with tracking) is on average $25.

International:

 shipping overseas is often $23 (for underbusts) and $34 (for overbusts) for surface and close to $45 for air shipping. If you'd like Express with tracking it is close to $65-75 depending on weight.
In all cases, if I get to the post office and I find that the shipping is less than what you paid by over a dollar, I will ask if you'd like a refund of the difference.

*
PAYMENT AND CURRENCY
At this time I only accept Paypal for payment. Its policies protect both of us. Canadian and US funds are close enough to par that I will accept either.
CANADIANS: Please pay in CAD, if you can.
AMERICANS: You may pay in USD if you prefer.
INTERNATIONAL: Please pay in CAD, if you can.

*
ALL SALES ARE FINAL – IF YOU HAVE ANY QUESTIONS ABOUT THE CORSETS, I WILL BE HAPPY TO PROVIDE CLOSE-UP PHOTOS.
*****
Corset Connection/ Versatile Corset Samples
These corsets I had reviewed for Corset Connection, but the owner says that they are going to be sold anyway. 90% profits will still be going to Corset Connection.
Lotus overbust corset, standard size 24″. Pink sparkly PVC (synthetic leather) with black pleather boning channels. Twill strength layer.
Approximate measurements:
Bust 34″ (will fit up to a D cup), Waist 24″, Hips at bottom 36″.
Center front length 16″, length over the bust is 18″.
Price of this corset new (with PVC upgrade) is about $420 ($400 regular, plus $20 PVC upgrade). SAMPLE SALE $250.
*****
Dita underbust corset, standard size 24″. Bright pink satin (fused for strength) and black shiny pleather boning channels. Twill strength layer.
Approximate measurements:
Underbust 30″, Waist 24″, Iliac 32″.
Center front 12″, underbust to lap is 9″. Features adjustable halter straps, and the sides extend up to hold in underarm pudge.
Price of this corset new is about $360. SAMPLE SALE $250.
*****
Gently Used Corsets
Boom Boom Baby Boutique couture overbust sample corset, waist size 25″. See the review here!
Other measurements available upon request.
Reason for selling: It's a little bit big in the waist and hips for me, and I also don't have events to wear such a beautiful corset to. I also already own another Boom Boom Baby overbust.
RRP new would be close to £199 GBP (about $315 USD). Asking $150 (you save 53%!)
*****
GENTLY USED - Timeless Trends purple silk with gold embroidery, size 32″ (posting for a friend). The gold scroll is real embroidery, not printed or flocked so will not rub off. This corset originally sells for $109 on the website, as you can see on this page here. This corset was only worn half a dozen times. Ribbon laces are crinkled but otherwise kept in excellent condition. Shipped from New York state, so shipping should not be more than $6-8 within the US.
Price new $109, asking price $70 (YOU SAVE ALMOST $40) or best offer. 
*****
Lucy's Homemade Corset Samples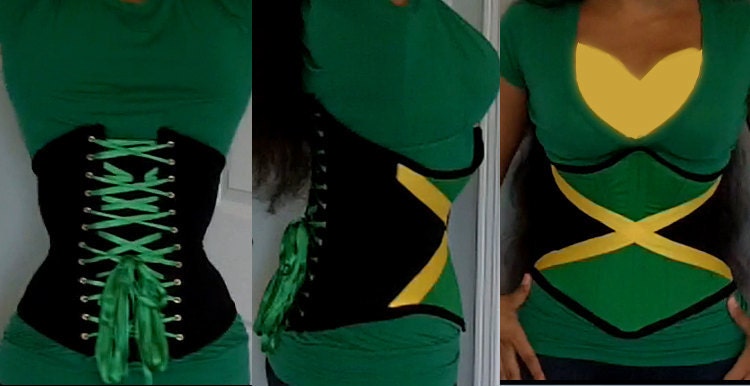 Jamaican Flag closed front underbust corset, made by me. Size about 22″. All twill inside (not coutil as I made this corset in about 1 day and was in a hurry). Inside is a bit messy (green threads visible) but still perfectly functional.Approximate measurements:
Underbust ~ 26″, waist ~ 22″, iliac crest ~ 27-28″
Center front length 12″, center back length 13″, side length at shortest 8.5″
This comes with a suspended modesty panel made from black twill over plastic canvas. Will fit waists up to about 28″.
Price: $120 OR BEST OFFER*****